Camella Cebu Location Map and Establishments in Cebu City
Upscale community in an ideal location
Camella Cebu is in the booming city of Cebu where everything that you could possibly need for both necessity and leisure is just a few minutes away! A beautiful home in the heart of a city that is both rich in culture, and resources in all forms: this is what investing a house in Camella Cebu means. We do not only offer a house where you and your family can be secured and comfortable living in, but also a property that you know will appreciate in value over time.
Establishments in Cebu
Everything you need is here!
Never be late for a flight schedule again as Camella Cebu is just a 5 minute drive away from the Mactan Cebu International Airport. Just within a 5-10 minute walk from the secured gates of Camella Cebu you will find Cebu Business Park, a 50 hectare development site, which now houses the most modern malls such as Cebu Ayala Terraces, as well as BPOs, and sports-centers. Play a game of golf with your friends as the Cebu Country Club is just 9 minutes away from your doorstep. We in Camella Cebu value your health and safety which is why we made sure that your home is just minutes away from the best hospitals that the City of Cebu has to offer. Within a 5-10 minute drive from your home are the following health institutions; Perpetual Succour Hospital, Cebu Velez General Hospital, Sacred Heart Hospital, Visayas Community Medical, Chong Hua Hospita, St. Vincent General Hospital, and University of Cebu Medical Center are all open 24 hours a day and 365 days a year to serve your medical and health concerns.
Your children's future are secured, as Camella Cebu is impressively close to the best elementary, highschool, and colleges in Cebu. Make the most out of the formative years of your beloved children as these schools that are near your beautiful home have proven that they are one of the best institutions to prepare children in choosing their career paths and entering college. Your kids will never be late as these schools are within a 5-10 minute drive from your home, Lahug Elementary School, Hipodromo Elementary School, Capitol Center SDA Elementary School, Guadalupe Elementary School, Cebu City National Science High School, Abellana National School, Don Carlos A. Gothong Memorial High School, Pit-os National High School, and Don Vicente Rama Memorial National High School. Colleges that have proven time and time again to produce the best graduates who eventually land the greatest jobs are also within 10-20 minutes away from your home, University of the Philippines – Cebu, Cebu Institute of Medicine, Cebu Doctors' University, Cebu Institute of Technology University, University of Cebu Main Campus, University Of San Carlos, University of San Carlos, Colegio De la Inmaculada De Concepcion, Benedicto College, and Cebu Eastern College.
Complete that grocery list, succumb to that coveted brand, dine in and satisfy your cravings in your favourite restaurant and watch the latest movie screenings in the closest malls from your home. Enjoy the outstanding proximity as Camella Cebu offers you a 5-10 minute hassle free drive towards these malls; Cebu Ayala Terraces, Rustans Supermarket, SM City Cebu, SM Seaside City Cebu, Ayala Malls Cinema, Gaisano Country Mall, Robinsons Galleria Cebu, JY Square Mall, Elizabeth Mall, SM City Consolacion, J Central Mall, and Robinsons Cybergate are all open to accommodate you and provide you with all that you need.
CAMELLA CEBU IS SECURE AND FLOOD-FREE
Camella Cebu in Cebu City is a gated and secure community. The village is made more secure by perimeter fencing, a 24-hour CCTV at the entrance of the gate and a 24-hour roving security personnel within the village.
Other amenities of Camella Cebu include playgrounds and pocket parks that will occupy almost a third of the entire estate, making it a sustainable, nature-friendly place for you and your family to live in. These amenities as well as Camella Cebu's close proximity to commercial establishments add value to your investment and increase the quality of life.
ENJOY LIVING IN CAMELLA CEBU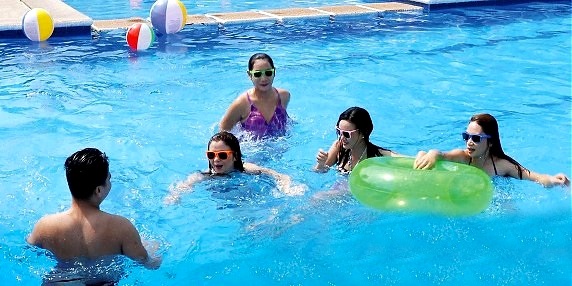 Buy a property in Camella Cebu and enjoy the many outdoor activities happening in Cebu City. Take a dip in Camella Evia's beautiful swimming pool and play basketball within the subdivision.
Spend a fine day with your family and experience the adventures that the City of Cebu has to offer, tourist spots that paved way for Cebu's growth economically are within a 30-50 minute drive from the foot of your door. Enjoy at these destinations that are conveniently located from your future home, Magellan's Cross, Temple of Leah, Cebu Trick Art Museum, Sky Water Park, Mactan, Sky Experience Adventure, and Cebu Metropolitan Cathedral. Journey to a town which houses the best natural reserves such as caves, beaches, and hotels, towns such as; Malapascua, Badian, Aloguinsan, Camotes, and Oslob are all within a 1-2 hour traffic free drive from your lovely home. All this and more, should you decide today to invest in a home at Camella Cebu. In Camella we don't just build houses, we're building the country!